PUSH Tech Diversity & Inclusion Summit
2021 PUSHTECH DIVERSITY & INCLUSION SUMMIT "The Power & Priority of Equity & Opportunity in the NEW NORMAL"
VIRTUAL PROGRAM | CLICK HERE TO REGISTER NOW 
https://youtu.be/gpzAjeXAMw4
OVERVIEW:
Building on the 6 years of emphasis in the world of technology, this year's Summit will broaden and expand its scope of impact to include numerous Diversity and Inclusion leaders and influencers in various high-profile roles from various companies across the spectrum of corporate America, business industries and Community platforms. The event will also feature and acknowledge a wide array of companies who over the past year have made significant inroads and expansion in the areas of Diversity, Equity & Inclusion Programming and Opportunities in the wake of the Global Social Justice Awakening of 2020. We will also highlight the amazing vision of our leader Rev. Jesse L. Jackson whose trailblazing foresight gave birth to PUSHTECH, FAITHTECH and SPORTSTECH, all of which prepared us to thrive and survive in the unexpected shift to what is our NEW & NOW NORMAL Virtual World.
Wednesday May 12, 2021 (4:00pm PST/ 6:00pm CT/7:00pm EST)
OPENING NIGHT: Celebrating Diversity, Technology & Legacy!
HONOREES:
~Laura Murphy, Civil Rights Leader, Diversity Policy Strategist-Advisor to numerous companies and corporate leadership to help integrate Diversity and Inclusion into the tech ecosystem, President Laura Murphy & Associates
~ Chris Genteel, Director of Supplier Diversity & Sustainability, Google- 1st Director of Supplier Diversity & Sustainability at Google. Facilitated numerous initiatives with Rainbow PUSH. Embraced & embodied Rev. Jackson's vision and led the launch of the Google Jesse Jackson Fellows Program & Google Connected Churches
~Anita Gardyne, Founder & C.E.O. ONEVA -Participant in 1st PUSHTECH pitch competition; launched a successful, multimillion-dollar tech-based in-home care and service provider
~AfroKids Tech Founders, Leo & Lynn Sullivan- 50+ Years of Videography & Technology, Creators of Video Animation for "Fat Albert & the Cosby Kids" & "Soul Train"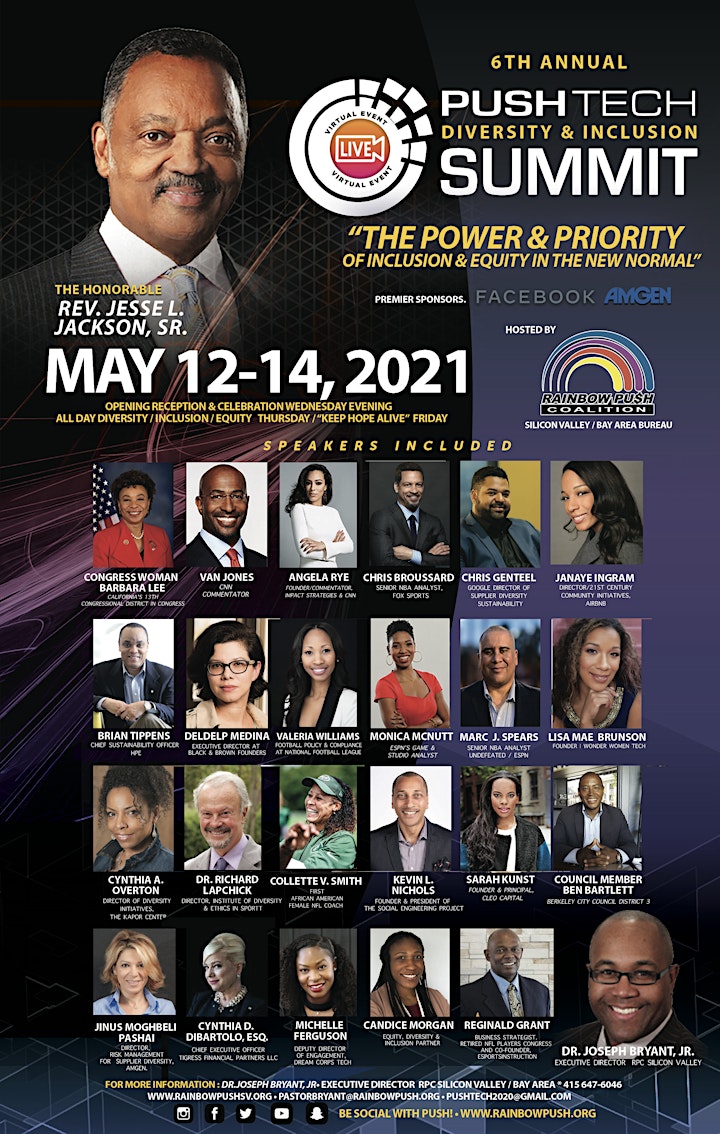 PROGRAM FEATURES:
FIRESIDE CHAT with Rev. Jackson & Congresswoman Lee, Angela Rye & Rev. Dr. Joseph Bryant
SPECIAL "Black Lives Matter" Song & Social Justice/Inclusion Impact of 2020- Martin Luther Mccoy
-----------------------------------------------------------------------------------------------
Thursday May 13, 2021 (9:00am PST/ 11:00am CT/12:00pm EST)
Panel: "TECH in the New Normal" Leadership & Shifts in The Industry in the era of COVID-19
Speakers:
• Van Jones (Moderator): CNN Host, President of Magic Labs Media & Founder of Dream Corps
• Brian Tippens: Chief Sustainability Officer - Hewlett Packard Enterprise
• Janaye Ingram: Director, 21st Century Communities Initiatives – AirBnb
• Antonio Williams: Executive Director, External Affairs – Comcast
• Michelle Ferguson: National Community Initiates Director – Dream Corps Tech
Panel Title: Supplier Diversity, Inclusion & Equity in Tech:
Where Are We & What's Next?
Speakers:
• Candice Morgan (Moderator) – Equity, Diversity & Inclusion Partner, Google Ventures
• Chris Genteel, Director of Supplier Diversity & Sustainability, Google
• Cynthia Overton – Director of Diversity Initiatives, The Kapor Center
• Jinus Moghbeli Pashai – Director, Risk Management for Supplier Diversity, AMGEN
• Deldelp Medina: Executive Director, Black & Brown Founders
Panel: "Leaning In": Influential Women in Tech & Leadership
Speakers:
• Deldelp Medina (Moderator): Executive Director, Black & Brown Founders
• Sarah Kunst: Founder & Principal, Cleo Capital
• Marie Brunson: Founder & President, Wonder Women Tech
• Cynthia Dibortolo: Founder & C.E.O. - Tigress Financial
Virtual Break- Comedian – J. Red
Diversity In Sports Segment
Women in Sports
• 1 on 1 w/ESPN's Monica McNutt & Rev. Dr. Joseph Bryant
Panel: "Changing the Game for Good"
Speakers:
* Chris Broussard (Moderator): Sports Analyst & Broadcaster, Fox Sports
* Dr. Richard Lapchick: Director, Institute for Diversity & Ethics in Sport, UCF
* Collette V. Smith: 1st African American Female NFL Coach
* Marc J. Speakers: Senior NBA writer for ESPN's, The Undefeated
* Valeria Williams, Esq: Attorney. Policy Compliance & Rules Administration, NFL
Tribute to the WNBA – 25TH Anniversary Season & History of Social Impact
-----------------------------------------------------------------------------------------------
FRIDAY, May 14, 9:00am (PT)/11:00am (CT)/ 12:00pm (EST)
Preparing for the Future: Education & Entrepreneurs
Presentations:
1-on-1 SESSION with Councilmember Ben Bartlett, Berkeley, CA Attorney, CA Blockchain Working Group; Technology VC Advisor
• KINGMAKERS – Tribute to Jean Wing, her impact on Education, Youth Services, Tech Programs, and a feature on the Oakland based African American Male Mentorship program she served as advisor for – KINGMAKERS
• STEM in the City: Summer Program for at-risk youth in partnership with Google, Intel and Stanford University
• Pitch Competition – in partnership with Esports Learning Lab
* Followed by Live Q/A & ADVICE from the ADVISORS
• HBCU's HEROES – Interview with Founders former NBA Player George Lynch & Marketing Executive Tracey Pennywell, offering Internships, Job Training and E-gaming for a Cause with
• SPECIAL PRESENTATION FROM Facebook
ANNOUNCEMENT of ELEVATE SCHOLARSHIP & Partnership
When
May 12, 2021 at 6:00pm - May 14, 2021
Where
Free - Online Event

Contact
Silicon Valley Project PUSH TECH 2021